Dr. Darryl W. Joyce
Pastor
Dr. Darryl W. Joyce is the founder and Senior Pastor of Exousia Ministries, Inc. established in 2000.  Exousia Ministries is a non-denominational Bible teaching ministry belonging solely to the Lord Jesus Christ.
Dr. Joyce was born and raised in Washington, D.C. and currently resides in Silver Spring, Maryland.  At the age of 10, the Lord Jesus Christ saved and baptized him with the Holy Ghost and fire. His spiritual roots were founded and cultivated at the Bible Way Temple Worldwide and Church of Jesus Christ, Washington, D.C. He has received ministry ordinations from several religious organizations, including the International Congress of Churches and Ministries, Chattanooga, Tennessee.
For 34 years, he served as a senior evaluator at the United States Government Accountability Office (GAO), in which he authored over 30 reports and publications on issues affecting the education, health, and safety of the American people. For his work, he received numerous achievement and outstanding service awards, including awards from Committees of the United States House of Representatives and the Comptroller General of the GAO.  Dr. Joyce is a product of the D.C. Public School System, and holds a bachelor's degree in Public Administration, Southeastern University; Master's Degree in Public Administration, Howard University; as well as a Master's Degree in Theological Studies (honors) and Doctor's Degree in Theology Studies (honors), Chesapeake Bible College and Seminary. He is also a member of the Gaithersburg/Germantown Chamber of Commerce.
Dr. Joyce operates under a heavy teaching and prophetic anointing, as God has given him a special gift of declaring the Word of God with simplicity and clarity.  He so loves people of all walks of life and desires for every person to come to know God for themselves through Jesus Christ.  It is with this vision and unction that the Lord has specifically directed Dr. Joyce to go into the streets weekly of Gaithersburg and Germantown, Maryland to declare the gospel of Jesus Christ to everyone he encounters.  Dr. Joyce does not measure ministry impact and success by the number of people who sit in church pews on Sundays.  Rather, solely by whether he is in obedience with what God has told him to do.  Dr. Joyce believes, as Christians, that every person we meet must be given the opportunity to hear the gospel and make a decision for or against Jesus Christ, according to Matthew 28:18-20 and Mark 16:15-18.
Dr. Joyce's favorite saying in life is, "when your adversary confronts you with hatred, never hate back, love back!" He encourages Christians everywhere to come and kiss and embrace I John 4:21. "And this commandment have we from him, that he who [loves] God [loves] his brother also."
Dr. JoAnne P. King
Pastor
Dr. JoAnne P. King is Vice Chairman of the Board of Exousia Ministries, Inc., located in Silver Spring, Maryland.  She was born on March 28, 1932 in Washington, D.C.  She graduated from Dunbar High School in 1950 and attended Virginia State University and American University for about 1 ½ yrs.  After her children were in their teens, she enrolled at Howard University while working full time and graduated with a Bachelor of Arts in Economics with honors at the age of 58.  For 22 years, JoAnne worked at Howard University.  While employed at Howard, she always looked for opportunities to win souls to Jesus Christ.  During her tenure at Howard, she led several of her colleagues to Christ.  While at Howard's Law School, she assisted in the establishment of the Law School's Student Christian Organization.  Frequently, when the students had problems of any kind, they would seek out her counsel and prayers.  She retired in 1991 from Howard University and has been working full time for the Lord ever since.
Dr. King attended the Bible Way Temple Worldwide and accepted the Lord Jesus Christ as her personal Savior at an early age, and was baptized and filled with the precious gift of the Holy Spirit.  She rededicated her life on December 31, 1962 and became a member of First Baptist Church and later Friendship Baptist Church where she served as a teacher in the Baptist Training Union, member of the Helping Hand Club, and Missionary Board.  She faithfully traveled with the Head Deacon and his assistant to pray for and serve communion to the home-bound members—this is one of her fondest memories.   One of Dr. King's greatest passions has been to pray for people.  She joined a group called:  "The Lord's Prayer Group" that met every Saturday evening in Maryland.   She has prayed for and with countless people and witnessed the miraculous healing power of God deliver them from all types of ailments and family tragedy.  
Thereafter, Dr. King began to seek an even deeper relationship with the Lord.  In 1990, she joined Miracle Faith Center in Washington, D.C.  She faithfully served as a Deaconess, Administrator for the International Executive Women's Association, Registrar for the Christian Faith Bible College, Leadership Counsel, and Director of Women's Affairs.  In 2000, she heard the call of God to join her son Darryl's ministry, Exousia Ministries.  In November 2000, she was ordained as an Evangelist by Bishop Larry Dempsey at her son's installation as Pastor of Exousia Ministries.  She was promoted to Pastor in December 2009.  Her leadership as an Evangelist, Pastor, and Board Member of Exousia Ministries has been exemplary.
Forever continuing her pursuit of excellence in education, Dr. King earned her master's degree in Theological Studies with honors at Chesapeake Bible College and Seminary in October, 2016 at the age of 84.  At the age of 86, Dr. King enrolled as a doctoral student in Theological Studies at Chesapeake Bible College and Seminary.  She received her Doctor of Theological Studies with honors degree on June 15, 2019 at the age of 87.  Dr. King is a widow and the proud mother of four (two deceased), grandmother of 9 and great-grandmother of 5.  She lives by the motto:  "Only What You Do For Christ Will Last!"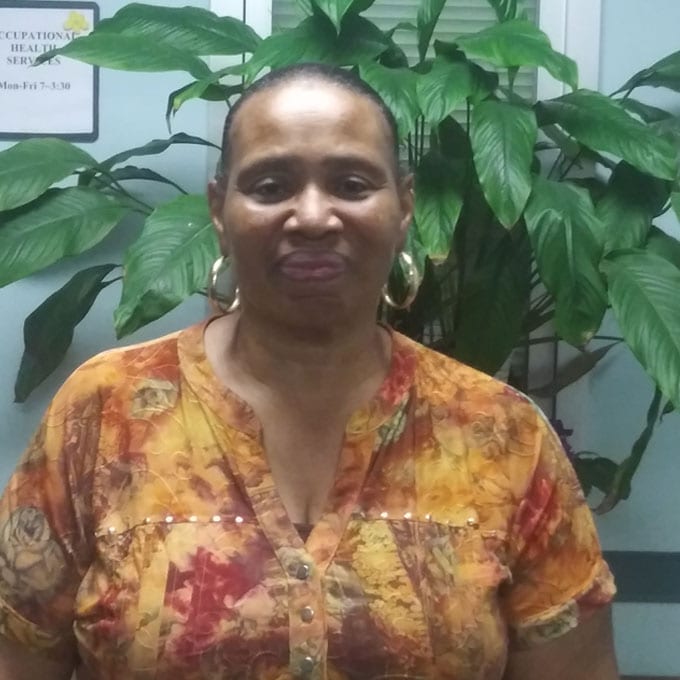 Jeronda Lynn-Bell Hairston
Minister
Minister Jeronda Lynn-Bell Hairston serves as the Superintendent of our Youth Ministry. She is affectionately known as "Mamma J."—and for a very good reason. Her life epitomizes Matthew 25: 35-36.